---
Cities are organic. They change and grow according to the needs of their citizens. So it's no surprise that some of the landmarks -- buildings, street art, etc. -- that make Toronto what it is for its citizens today face an uncertain future. People might neither need them, nor want them down the road. But that's no reason to forget them. Here are a few examples.
Bata Shoe Company Headquarters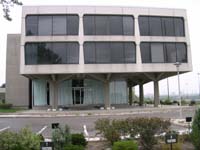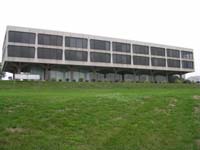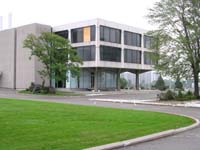 The Toronto Star's architecture critic Christopher Hume wrote about the Bata Shoe Company's headquarters on Sept. 20, 2005. He noted that the building, stationed on rising land and overlooking Eglinton Avenue near the Don Valley Parkway, is slated to be demolished and replaced with an Ismaili spiritual centre. John B. Parkin designed Bata's HQ in the mid-1960s. Hume notes it's one building on a growing list of demolished or soon-to-be defunct modern edifices. He points out that 40 years from now we'll consider modernism an historically significant architectural period worth preserving, but at this rate there won't be much of that history left to look at. Hume received numerous responses to his Sept. 20 article, many suggesting the Bata building is not worth saving.
Inn on the Park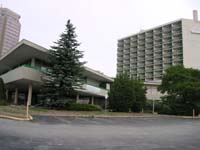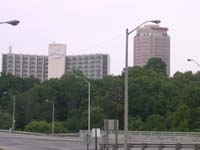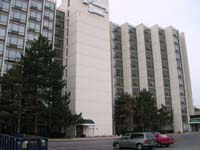 The old Inn on the Park at Eglinton Avenue and Leslie Street is slated for demolition. Accounts from urban explorers suggest the hotel isn't in good shape these days. As you might be able to see from these pictures taken Sept 25, 2005, its façade is pealing. Perhaps it wasn't built to last. But it's still interesting to look at – just as unique as it was when built in, what, the 1960s? I don't know. Still, I have fond memories of this hotel, having spent an Easter weekend there in the early 1980s. I was eight, or perhaps 10 years old. The staff organized an egg hunt for those of us of prime egg-hunt age. I ate too much chocolate. The Inn soars over Leslie, bursting from a stand of mature trees. It represents Toronto's extension into the once-new suburbs of Don Mills and North York. Its demise represents the modern mindset: suburbs bad, downtown good. Although a proponent of intensification, I mourn this loss.
Newspaper Boxes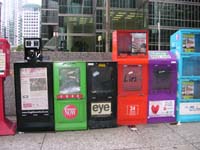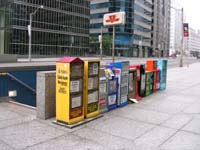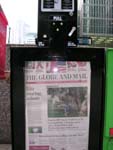 Now magazine reported recently that Toronto council might ban newspaper boxes, and has the city has put a moratorium on new ones until the issue is cleared up. Council is considering a sort of newspaper super box that would streamline the look of things, no question, but also undoubtedly stultify the streetscape. Goodbye contrasting colours vying for your attention, hello boring unit. The city's also entertaining complaints about sidewalk signs. Some say they're an eyesore. I say they make the city's fabric that much richer.